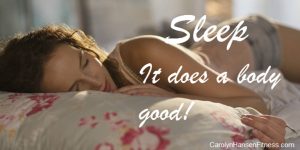 Part of being fit and healthy includes the kind of sleep we are able to get each night.
Without a doubt, sleep is critical to success. It effects our executive function – the area of the brain responsible for decision making. Studies show that sleep deprived people suffer memory impairments, vision disturbances, slower reaction times and in more severe cases lack of quality sleep can even create a similar effect that being intoxicated has. It lowers the health of the immune system, raises the risk of cardio vascular disease, increases stress levels and emotional reaction.
On the other hand, quality sleep provides more energy and focus for the day – traits entrepreneurs must own and display. Healthy entrepreneurs have learned that participating in regular fitness helps them to get the kind of quality sleep they need at night in order to perform at maximum capacity with full clarity the next day. Their sleep is deeper and sounder than if they had not exercised, Like a true entrepreneur, they capitalize on that.
Healthy Entrepreneur tips to help improve sleep quality…
Caffeine can easily keep you awake at night and make it hard to fall asleep. Be aware of any products you use throughout the day that may contain caffeine – especially going into afternoon and evening hours.
Eat Early – eating large meals too close to bedtime can make it difficult to fall asleep. Eat your bigger meals earlier and enjoy a light snack in the evening. One containing protein and fat is ideal. Try and stay away from the sugar and starch. Simple carbs (sugary snacks) provide a quick burst of energy followed by a sudden crash. This disturbs the quality of sleep.
Exercise Early – Exercise revs up your metabolism causing you to have too much energy making it hard to sleep.
Avoid alcohol before retiring – Although alcohol may initially help you to fall asleep it will actually wake you up in the middle of the night. If you enjoy a glass of wine before dinner try and schedule it so that you have at least 3 hours before you'll be retiring for the night.
Eliminate the noise and light – the optimal sleep environment is cool, dark and quiet. Avoid charging phones and other technology devices in your bedroom so you can avoid the "glow" they give off. Gadgets force our brains to stay active so if you are trying to relax you are working against yourself. Try reading a book or conversing with your partner to unwind.
Wake up with the sun. Getting sunlight to start your day is the perfect way to rest your circadian rhythm which helps to ensure that you'll be tired at night.
Sleep deprivation has also been linked to obesity because it makes you hungrier by boosting the stimulation of the hormone ghrelin and reducing the levels of leptin (the satiety inducing hormone). It raises the risk of diseases such as type 2 diabetes.
Bottom line is sleep has a powerful effect on your well-being and success. Proper fitness and healthy nutrition help to ensure that the sleep you do get is high quality sleep.
Your brain will be refreshed and ready to tackle whatever comes its way. You'll remain calm under pressure and your decisions will be made with clarity and decisiveness.
"Super Productivity Secrets"  was written for entrepreneurs ready and willing to operate at full capacity. It is the ultimate lifestyle, fitness and success library. Discover the missing strategy that has kept you from reaching the level of success you dream about.